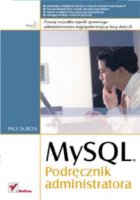 MySQL jest bardzo powszechnym systemem zarządzania bazami danych. Jego popularność tkwi w doskonałym połączeniu z PHP i serwerem Apache, jak również licencji open source. Żadna aplikacja internetowa, ani strona WWW nie może działać bez bazy danych. Alternatywą dla kosztownych technologii i środowisk stało się MySQL, które bardzo łatwo zainstalować i skonfigurować. Wiele firm hostingowych oferuje konta webowe z dostępem do bazy danych, często właśnie MySQL.

"MySQL. Podręcznik administratora" jest obszerną książką o cennej zawartości. Ogólne informacje na temat poleceń SQL to wstęp do prawdziwej lektury. W książce szczegółowo opisano sposoby instalacji MySQL w różnych systemach operacyjnych oraz aktualizacji z poprzednich wersji. Bardzo obszerne są rozdziały na o administrowaniu i optymalizacji bazy danych. Kwestie te są bardzo ważne z powodów bezpieczeństwa oraz zużycia zasobów naszego serwera. Autor porównał w książce dwa najpopularniejsze mechanizmy składowania danych, a mianowicie MyISAM oraz InnoDB. Przedstawił ich wady i zalety. W ostatnim rozdziale przeczytamy o prawdopodobnych problemach i sposobach ich rozwiązywania.
Książka jest bardzo dobrym podręcznikiem dla administratorów. Podstawowych informacji oraz przykładów dla początkujących jest naprawdę niewiele. Zawartość książki docenią zaawansowani programiści aplikacji internetowych. Optymalizacja poszczególnych zapytań i zabezpieczenie po stronie serwera to zagadnienia istotne podczas procesu tworzenia.
OSTATECZNA OCENA: 4/5
Autor: Paul Dubois
Tytuł oryginału: MySQL Administrators Guide
Tłumaczenie: Tomasz Pędziwiatr, Grzegorz Werner
ISBN: 83-7361-687-X
Format: B5, stron: 712
Data wydania: 01/2005 (Helion)